BIOLOGICAL RECOVERY OF INDUSTRIAL FUMES
Following three years of pre-industrial experiments in a real-life environment in the heart of the Fos-sur-Mer industrial port area, the Port of Marseille Fos and its partners are delighted with the success of the Vasco2 applied research program, which proves that the novel solution for treating industrial fumes by cultivating microalgae actually works.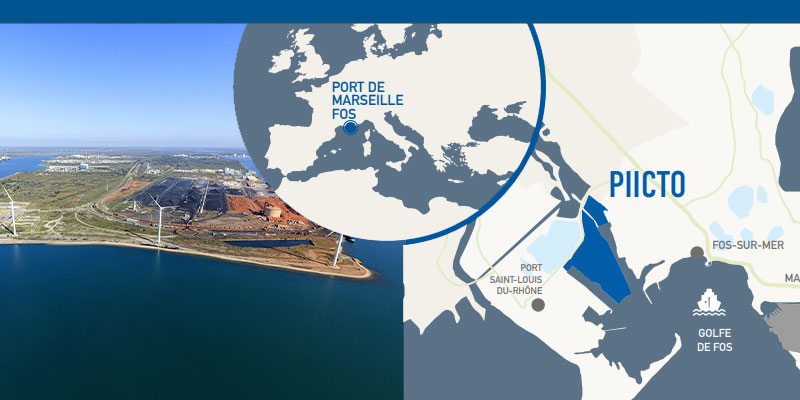 Need a contact on this project ?
VASCO 2
Launched in autumn 2015, Vasco2 is a research program led by the Port of Marseille Fos and twelve partners focusing on recovering the CO2 emitted by industry. Their aim is to to contribute to the energy transition through innovation by testing a novel solution for biomass production based on the biological recycling of industrial CO2.
The Vasco 2 program was built on the principle of "allowing nature to take its course": tests in seawater and then in fresh water, no selection of algae and no pre-treatment of the water or fumes.
To conduct these tests, 10 m² and 160 m² culture basins were installed on the Ifremer site in Palavas in 2016, and were followed by the Kem One, ArcelorMittal and Solamat-Merex sites in Fos-sur-Mer in 2017. Microalgae were cultivated, harvested and concentrated on site until early 2019 as a result of Coldep's technical and human commitment. They were then transformed into biocrude on the CEA Liten site. The biocrude was characterized and refined by Total's research centre until a biofuel was obtained.
At the steering committee meeting in April 2019 the consortium partners agreed to move to the industrial stage, i.e. to 3,000 m² lagoons. The results obtained over the last few months of operation have demonstrated very encouraging prospects for CO2 production and storage in biomass in relation to offering an emerging solution for treating fumes. The prospects for structuring a genuine industrial ecology sector are very real.
Watch the project video: https://www.youtube.com/watch?v=1j1FLUtdzuI&feature=youtu.be
THE INDUSTRIAL PHASE: VASCO 3
The Port of Marseille Fos is already holding discussions for Vasco 3 which will cover the deployment of an industrial-scale demonstrator, the last step in developing a solution to reduce atmospheric emissions of CO2, NOx and particles from the Fos-sur-Mer industrial port area.
PARTNERS AND FINANCING
Port of Marseille Fos; Coldep; Helio Pur Technologies; Ifremer; Cea; Total; ArcelorMittal; Kem One; Solamat-Merex; Lyondellbasell; Métropole Aix-Marseille-Provence - Conseil de Territoire Istres Ouest Provence Inovertis

PARTNERS AND FINANCING
Co-financed by ADEME and labelled Pôle Mer Méditerranée