Containers & Reefers
Containers are one of the main activities for the Port of Marseille Fos. Present in both harbours (Marseilles and Fos), it has experienced sustained growth, recently tripling the capacity of its terminals and restructuring its operations, which are now entirely private sector run.
 
Marseille Fos is a genuine market port for developing the container activity, benefiting from efficient massified hinterland services, and can also offer real opportunities for intersecting lines and developing transhipment.
MARSEILLE FOS
Natural Southern gateway to Western European markets.
At the crossroads of the world's maritime routes.
Hinterland linked by massified modes of transport with a reduced carbon footprint.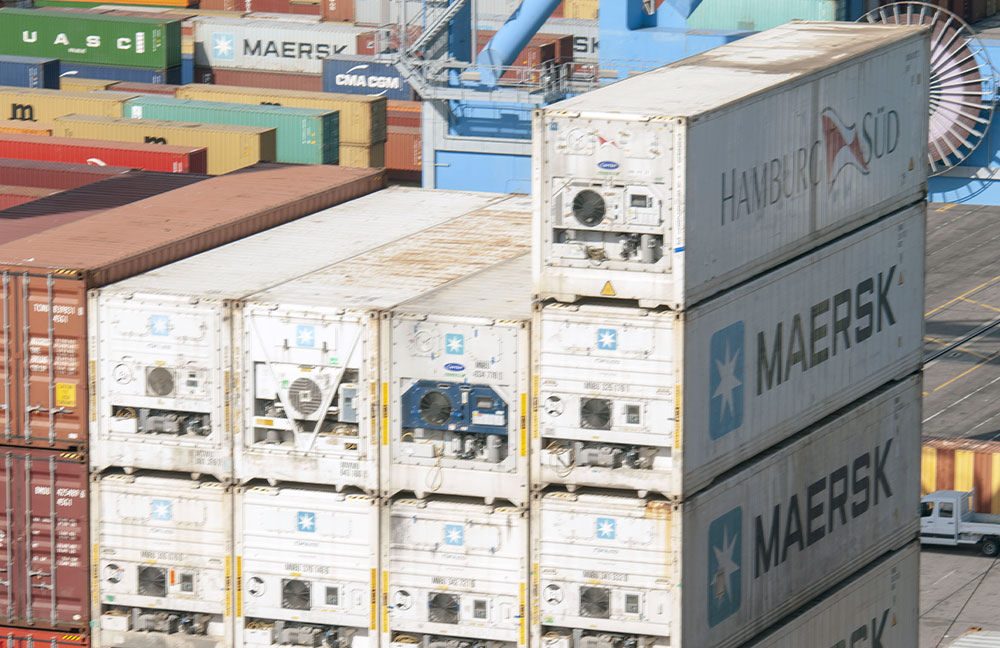 Contact

Fatiha EL AMRANI-JAUREGUY
Head of Sales Department
MAJOR ADVANTAGES
Reliable and secure port approved by International Ship and Port Facility Security (ISPS).

3 million sqm of storage space.

High-performance and secure private terminals: MedEurope Terminal, Terminal de la Méditerranée, Fos 2XL Terminal.

Easy nautical access: deep-water port, no tides or locks.

Multimodal connections (road/river/rail): quayside rail connections, river connections via the Rhône river and road connections to Europe.

Optimal transit-time.

Reefer areas with more than 1,000 plugs.
GOOD FACILITIES
The longest quay in Europe: 2.6 linear km operated by two terminals, the Terminal de la Méditerranée and the Fos2XL Terminal.

The largest container terminal in France: the Terminal de la Méditerranée with a capacity of 1.5 million TEU operated by Eurofos/Portsynergie.

New generation equipment with the largest gantry cranes in the world and hybrid straddle carriers.

Mobile scanner to check containers.

Border inspection posts including all government services directly on the terminals.

Customs facilities - www.mgi-ci5.com.

1 phytosanitary quay.

1 Cargo Community System « CI5 ».
Terminal Med Europe
Bassins de Marseille
Operator: Intramar
latform length : 1 000 m
Surface area : 90 ha
Draught : 10-11,20 m
Equipement: 4 gantry cranes
Reefer plugs: 250
Connections : Rail/Road
Other types of handling : Container, Conro, Breakbulk, bulk cargo
Terminal de Méditerranée
Darse 2 – Bassins de Fos-sur-Mer
Operator : PortSynergy - Eurofos
Platform length : 1 900 m
Surface area : 89 ha
Draught : 15-16m
Equipment : 8 gantry cranes including 4 Malacamax
Reefer plugs : + 400
Connections : Rail/River/Road
Other types of handling : Container, Breakbulk
Seayard Terminal
Darse 2 – Bassins de Fos-sur-Mer
Operator : Seayard
Platform length : 860 m
Surface area : 52 ha
Draught : 15-16m
Equipement: 6 gantry cranes including 1 Malacamax
Reefer plugs : 400
Connections : Rail/River/Road
Other types of handling : Container, Breakbulk