Dry Bulk
MARSEILLE FOS, A MULTI-PRODUCT PORT
The solid bulk sector in Marseille Fos is organized around the import/export of agri-food products such as cereals and industrial bulk such as fertilizers, raw materials. The port implements specific know-how and dedicated terminals with storage areas, conveyor belts and specialized hangars to meet the needs of customers in highly fluctuating markets.
Towards driving new growth.
Connected to the river.
Linked to the Rhône-Alpes Region for industry and the food-processing industry.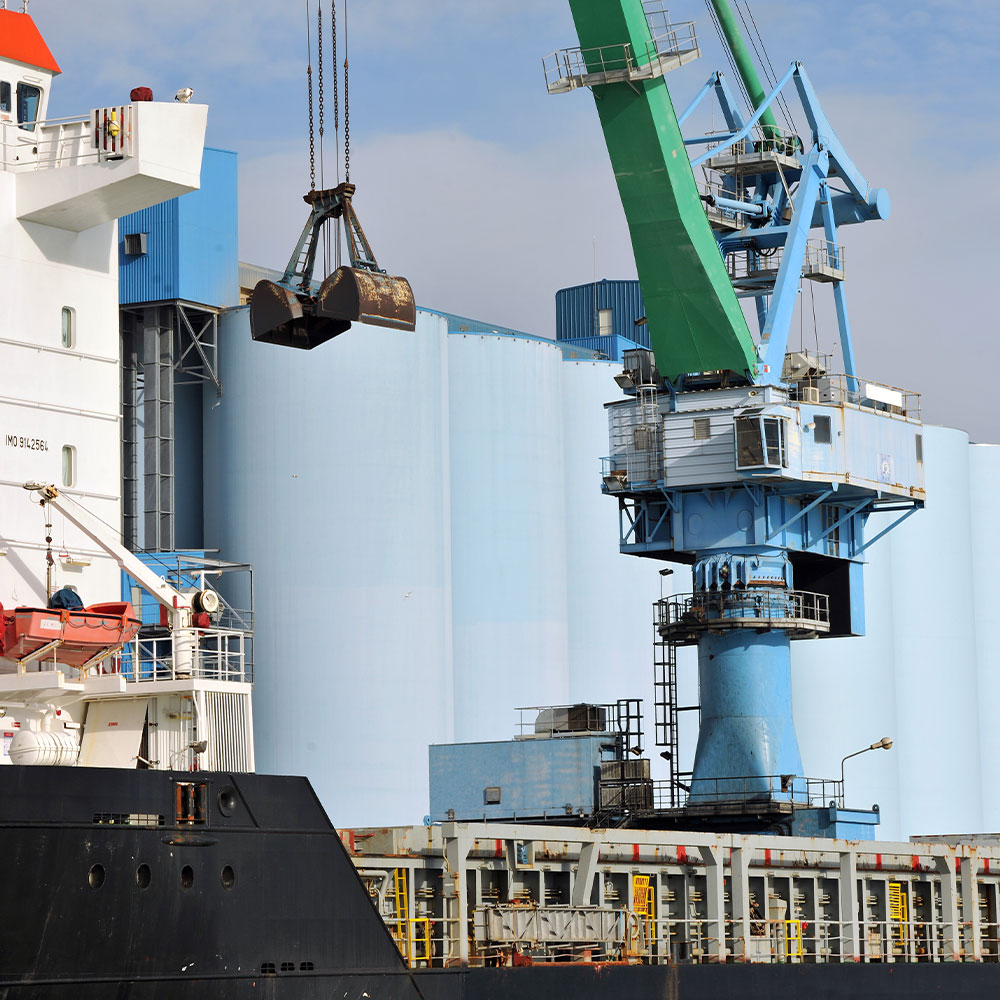 Contact

Fathia El-Amrani-Jaureguy
Head of Sales Department
MAJOR ADVANTAGES
Reliable, secure port.

ISPS approved port.

A secure port chain.

Smooth flow of the cargo on the quayside.

Quayside rail connections.

Proximity to the motorway network.

Diversity of the offering.

Presence of one of the leaders in the concrete industry : CEMEX.

Presence of the world leader in the steel industry : ARCELORMITTAL.
GOOD FACILITIES
Presence of a ready-mix concrete production unit.

Rail and river connection.

Flat and vertical storage silos.

Transhipment end-to-end.

Modern facilities.

Terminals with the Food Safety / Good Trading Practices Charter (CSA/GTP).
| | Dry Bulk Terminal - Marseille harbours | Dry bulk terminals - Darse 1 – Fos-sur-Mer harbours | "Caronte" Terminal - Fos-sur-Mer harbours | "Arcelor Mittal" Terminal - Darse 1 - Fos-sur-Mer harbours | Gloria and Tellines Terminals - Port-Saint-Louis-du-Rhône |
| --- | --- | --- | --- | --- | --- |
| Operator : | MPMM | SEA INVEST/CARFOS | SEA INVEST/CARFOS | SOSERSID-SOMARSID | SEA INVEST/CARFOS |
| Surface area : | on request | 66 ha | 22 ha | 37 ha | 16 ha |
| Quay : | 2 berths 40 and 22 | Length 850 m | Length 650 m | Length 640 m | Length 260 - 380 m |
| Draught : | 9 - 10.70 m | 12.50 - 16.70 m | Up to 9 m | Up to 19.50 m | 7.2 - 10 m |
| Max. ship capacity : | | Capesize - 290 x 50 x 16.70 m- 150 000 T | 25 000 T | 230 000 T | 30 000 T |
| Destinations : | North Africa, Mediterranean, Africa | South Africa, Colombia, Venezuela, USA, Indonesia, Guinea | Mediterranean, West Africa, China, Australia | Worldwide | Mediterranean, Eastern Mediterranean |
| Facilities : | | | | 2 shore cranes, Capacity over 55T / Mobility 50 M | E-crane crane (400T/h), Potain crane (300T/h with weighing on belt conveyor), loading gantry cranes, handling links with port silos |
| Connections : | Rail | Rail/River | Rail/River | Rail/River | Quayside rail and river network |
| Products : | Alumina, cement, scrap metal, cereals, pumice stone, sand, sunflower cake… | Cement, clinker, ores, coal, coke, bauxite, biomass... | Fertilizers, ores, alumina, clinker...and all types of bulk products. | Iron ore, coal.... | Cereals, fertilizers, peat, products from organic agriculture |
| Storage capacity : | Quayside storage 13 000 m2 and 16 000 m2 of warehousing | Storage platform | Storage plateform | Storage plateform | 8 000 m3 (vertical silos) and 12 000 m3 (flat silos), flat storage and an analysis laboratory |