Liquid Bulk
THE BERRE - FOS - MARTIGUES TRIANGLE
The Berre - Fos - Martigues triangle is made up of a petrochemical complex of nearly 2 000 SMEs & SMIs, representing one of the largest hubs in Southern Europe.
Faced with the challenges of sustainable development, these world leaders in petrochemicals are successfully turning to the energy transition and benefiting from the Port of Marseille Fos' support and specialized facilities in organizing their logistics.
MARSEILLE FOS
no 1 petrochemical complex in France
4th largest petrochemical complex in Europe

n

o 1 European LPG hub
Pipelines connected to the European network
3 terminals dedicated to chemicals and petrochemicals
2 terminals dedicated to LNG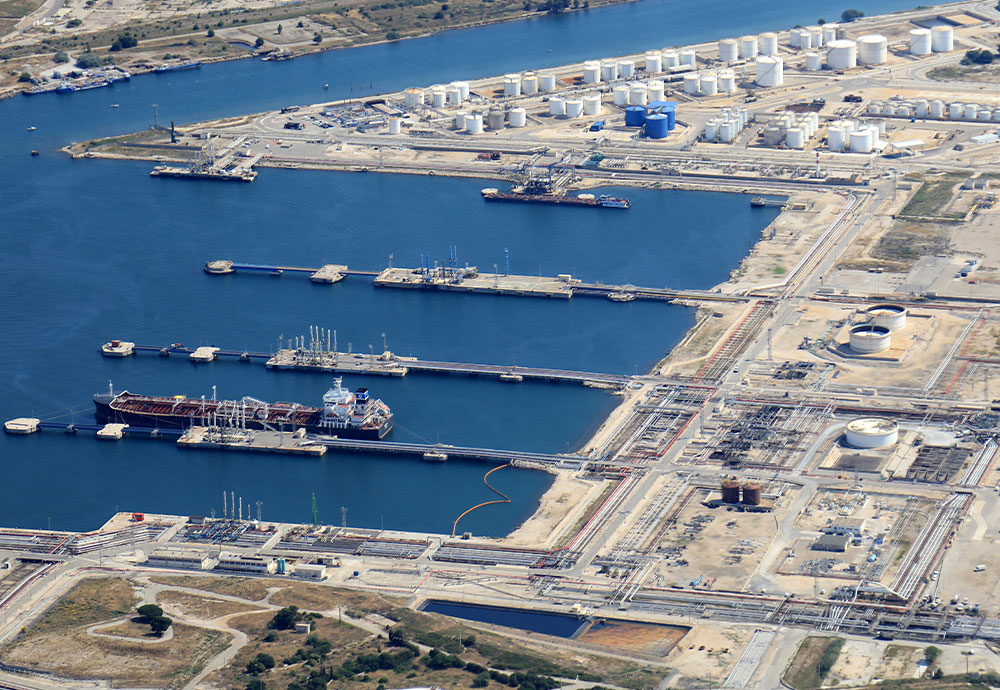 Contact

Fabienne HANAUER
Liquid bulk coordinator
MAJOR ADVANTAGES
Four interconnected industrial platforms: Fos-sur-Mer (including PIICTO with INNOVEX), Lavéra, Berre, La Mède.

Leaders in the sector: TOTAL, EXXON, INEOS, ENGIE, KEM ONE, ALKION, LYONDELBASELL…

One of Europe's largest biorefineries on the Total La Mède site.

Complete multimodal connection (road/river/rail/pipeline).

Reliable and secure port approved by the International Ship and Port Facility Security (ISPS).

Pipelines directly connected to the European network.

Numerous storage areas: Dépôts Pétroliers de la Crau, SPSE, Geosel, Dépôts Pétroliers de Fos.

Medlink Safe: secure transport of hazardous materials by barge.

15,000 ha of land available.
GOOD AND SECURE FACILITIES
ISO 9001:2008 quality certification.

Subject to and compliant with ISPS security constraints.

Designation of OIV in defence matters (Operator of Vital Importance).

The oil ports in Fos and Lavéra are classified as ICPE sites (Installation Classified for the Protection of the Environment).

Accommodation of the largest vessels in operation.

Storage depots directly connected to the terminals.
Liquid bulk terminal

Marseille harbours

Oil terminal

Lavéra harbours

Oil terminal

Fos-sur-Mer harbours

Fos Tonkin and Fos Cavaou LNG terminals

Darse Sud and Darse 2 – Fos-sur-Mer harbours

Operator:
MEDIACO-VRAC with supply chain services

FLUXEL (Port of Marseille Fos 66% shareholder)

FLUXEL (Port of Marseille Fos 66% shareholder)

ELENGY: No. 1 LNG terminal operator in Europe

Companies present:
MEDIACO-VRAC

AIR LIQUIDE,
APPRYL,
GEXARO,
KEM ONE,
INEOS,
LAVERA ENERGIE,
NAPHTACHIMIE,
OXOCHIMIE,
PETROINEOS,
MESSER,
SPSE

ELENGY
Surface area:
400 ha
650 ha
10 000 ha
80 ha
Quay:
2 quays - Length: 150-170 m
17 quays
7 quays
1 jetty on each site
Draught:
9.30-10.50 m
12.50 m
21 m
Ship capacity:
80 000-130 000 T
7 500 m3 to 267 000 m3 Q max
Destinations:
North Africa, Mediterranean, Africa
North Africa, Middle East, West Africa
Products:
Vegetable oils, juices, non-flammable chemicals
Refined products, LPG, chemicals, FAME, vegetable oils
Crude, refined
LNG
Connection:
Rail
Pipeline
Pipeline
Road, rail and barge
Special features:
*Customs warehouses, Surveillance (accredited by FOSFA) *Unloading and loading of ships and flexitanks
CEVESO certified site
CEVESO certified site
Storage warehouses:

*ALKION: 130,000 m3 of refined products, chemicals, additives, vegetable oil, bitumen *GEOSEL: 9.2 million cbm (30 salt caverns) of solutions for crude and refined products, the largest European site for operational and strategic storage of petroleum products *GEOGAZ, PRIMAGAZ: LPG *INEOS OXIDE: chemicals
*Dépôts Pétroliers de Fos (DPF): 860,000 m3 of refined products *SPSE: storage of crude oil and refined products (naphtha, diesel), transport of crude oil by pipeline, supplying Total's refinery in Feyzin in France, the Varo refinery in Cressier in Switzerland. Also feeds the refineries of PetroIneos Manufacturing France in Lavéra, Total La Mède and Esso Fos via the storage depots of Dépôt Pétrolier de Crau (DPC)