FRANCE'S FIRST POWER-TO-GAS DEMONSTRATOR
Jupiter 1000 is an innovative Power-to-Gas industrial demonstrator project. Based at the Innovex incubator in the Fos-sur-Mer industrial port area, it aims to transform renewable electricity into gas for storage. Surplus electricity will be converted into hydrogen by two electrolysers, as well as into synthetic methane thanks to a methanation reactor and a nearby industrial flue gas CO2 capture unit.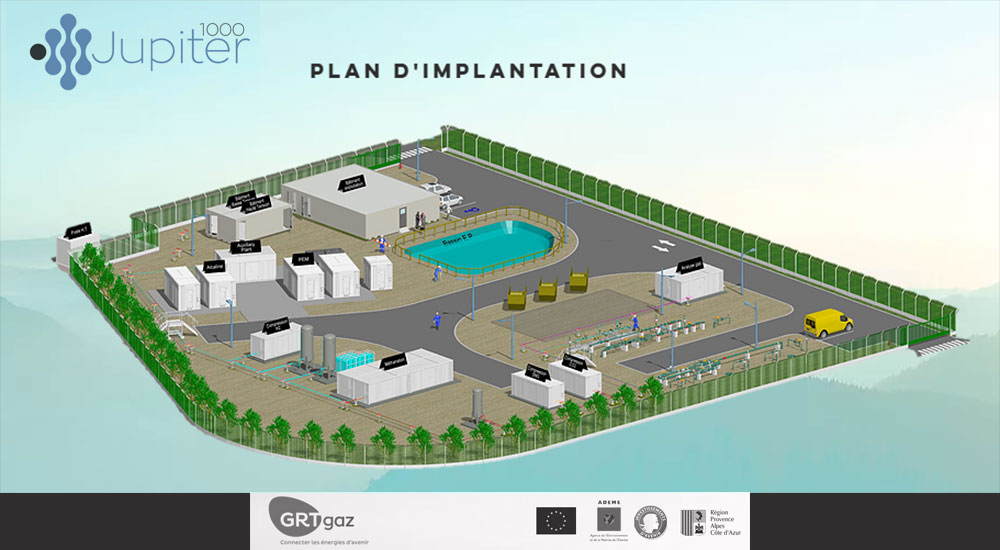 Need a contact on this project ?

Michaël PARRA
Energy Transition Manager
JUPITER 1000: FIRST PROJECT LAUNCHED ON INNOVEX
Located on the Caban-Tonkin Industrial and Innovation Platform (PIICTO), the Innovex incubator is an accelerator for innovative demonstration projects linked to the new industrial and energy sectors.
PARTNERS AND FINANCING
Coordinated by GRTgaz and built in collaboration with the Port of Marseille Fos, Jupiter 1000 mobilises various French partners with complementary skills: McPhy Energy for electrolysis, Atmostat and the CEA for the methanator, Leroux and Lotz Technologies for CO2 capture, the CEA for R&D, CNR supplying renewable electricity and ensuring the future remote control of the installation, and GRTgaz and TIGF managing injection into the gas networks. The industrial companies involved in the project are: Kem One; Ascometal; Lyondellbasell.
This project is co-financed by the European Union in the framework of the ERDF Fund, by the French government in the framework of the Investments for the Future program entrusted to ADEME, and by the Provence-Alpes-Côte-d'Azur Region.