CAP JANET INTERNATIONAL TERMINAL
CAP JANET INTERNATIONAL TERMINAL
The Port of Marseille Fos is undertaking work to restructure the Cap Janet international passenger terminal in order to accommodate all the North Africa traffic :
400 calls per year
500,000 passengers a year
200,000 light vehicles a year
Work began in September 2020 and will take 13 months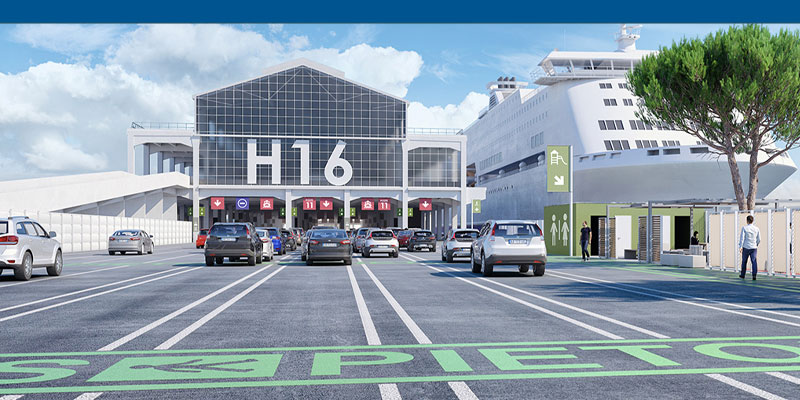 THE NEW CAP JANET INTERNATIONAL TERMINAL
The Port is developing a modern facility on an area covering about 20 hectares that meets not only functional needs but also high-quality standards :
a pedestrian terminal with a capacity of 600 passengers.
comfort spaces for waiting passengers.
outdoor waiting areas covering 3,000 m² consisting of planted parks with benches, children's playgrounds and shaded areas.
enhanced border control modules.
direct access from the A55 motorway.
It will be able to accommodate up to 4 vessels per day during the summer season (the busiest period) and in combination handle some freight (approximately 40 trailers), mainly in the off-season.
SHORE TO SHIP POWER SUPPLY
In the framework of this project, the Port of Marseille Fos is planning a major shore-to-ship power supply system on the terminal's 4 quays, with the possibility of connecting 2 vessels simultaneously.
The aim is to enable the ships to connect to the shore power grid in order to limit their emissions while at berth.
ROAD ACCESS
Métropole Aix-Marseille-Provence is carrying out the work to create road accesses to the Cap Janet International Terminal. External access will be via a dedicated port access route that will be used only by terminal passengers. The new Gate 3, 150 m from Gate 4, will pass over the railway track and the highway and will be open only during embarkation and disembarkation times. This dedicated access will provide totally independent access to the terminal, avoiding crossing any other port flows. To carry out this work, car traffic will be reduced to one lane on the RD5 (on the lower part). This restriction will be in place until February 2021.
The work is being carried out in partnership with Métropole Aix-Marseille-Provence, the government, the region and the Aix-Marseille-Provence department.
North Africa lines